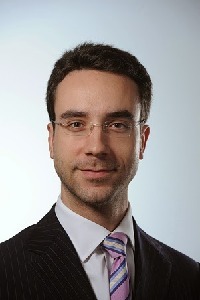 Autres compétences
AMOA, Audit fonctionnel, Reporting, Expertise fonctionnelle, IFRS, Mind mapping, Intégration MOE
Secteurs d'activités
Industrie, Industrie de process, Luxe, Métallurgie
Product owner (Agile)

Senior Business consultant with 19 years of experience in the integration of operational and financial data, and cross functional team management.

Edouard gives matter to the vision of its clients, with high autonomy, up until the delivery.

His MSc. in Civil Engineering (2000), with a major in Environment (especially Networks design, financing and operations management), and his Executive MBA (2013) allowed him to adapt from traditional project management (TPM) methods to more agile and adaptive ones (APM) into highly changing business environment characterized by its uncertainty, with the ability to anticipate risks incoming from the integration of the requirements and constraints.
Used to deal with complexity in business environment as well as in techniques, with a highly demanded level of quality. 
Able to manage and/or design structured and robust solutions to answer intricate issues, dealing with emerging complexity and its new paradigms, and reducing the complexity into a model.
Along the value chain, he integrates new trends from marketing developments that drive future financial requirements, throughout the necessary business processes.

Adaptive, Inquiring, Pursuit of the widest optimum results.
·        Distinctive value proposition:
Identification of the Integration Risks, from the needs to the solutions.
·        Financial performance and IT transformation: from Vision, to Delivery.
Organizational design, architecture definition, implementation and change support.

Dimensions for analyses: definition and improvement.

Enterprise Resource Planning [ERP] SAP Financials, FICO SD MM.


French fiscal system, European and international integration (IAS/IFRS).
·        Leading design assistance, enterprise solutions design, feasibility studies.
·        Financial modeling. KPIs. IFRS15 – Legal contracts consistence. GDPR. 
Industries:  Energy  -  Construction  -  Manufacturing 
---
Profile :
EN : http://fr.linkedin.com/in/edouardborrel/
FR : http://fr.linkedin.com/in/edouardborrel/fr
ES : http://fr.linkedin.com/in/edouardborrel/es
---
2013 : MBA (ESSEC & Mannheim Business School).
2000 : MSc Civil Engineering (ESTP), major in Environment.
---
French native, English fluent, Spanish working proficiency.
---
Consultant contractor.

Specialties: Solution design, Integrations of systems and functionalities, Full lifecycle implementations.

SAP                 mySAP Financials: FI-GL, FI-AP, FI-AR, FI-BL (banks), CO-OM (OPA/IO), CO-CCA, CO-PCA.
Supply chain: SD-SALES, SD-BIL, MM-MAT.
Industry Solution: IS-U (Utilities), EDM, and integrations with SD and FI-CA.
Knowledge of: CO-PA, PS, ...
Basis components (BC): ALE, Idoc exchanges, Jobs, Batch Inputs, ...
Microsoft          Advanced use of Office Programmes (Access, Excel, Word, PowerPoint), and
Visual Basic programming (VBA).
Modeling          ARIS Express (BPMN), Mind mapping...
Concepts          BI. EDI. XML. FTP. Scheduler.
Miscellaneous    FileZilla, XML Spy, HP QC (Quality Center), ...
---
Looking for opportunities worldwide.
MSc Civil Engineering (Ingénieur TP)
---
Disponibilité
Longue durée, Temps partiel